About Charles
A brief history
Charles was trained in estate and woodland management in the 1980s by the late Dr Cyril Hart, before working as timber buyer and assistant general manager in a large commercial sawmill in Wales. He then moved to woodland management and managed the forestry department on the Charborough Estate in Dorset for 14 years. This estate consisted some 2,400 acres of lowland mixed broadleaves and included some of Charles's passions of Christmas trees and estate sawmilling. For the past 25 years he has worked for two woodland management companies in the southwest, before establishing Charles Dutton & Co.
Charles has a range of specialist knowledge, not least the control of grey squirrels and damage prediction, timber harvesting in red squirrel areas, the cultivation of cricket bat willows, management of trees along riparian zones and timber harvesting near salmonid spawning grounds. He is also experienced in the design and building of new woodlands and especially woodland for game and native birds. He is a Lantra qualified Roadside Tree Inspector so is able undertake roadside tree inspections and produce a five year survey.
Meet Charles
Charles, apart from being a life long forester, is a second generation land manager. He is passionate about salmon conservation (he is vice chairman of the Frome Piddle & West Dorset Fishing Association) and fly fishing.
He is also a keen vine grower and has established two successful vineyards in Dorset, and now heads up a small co-operative of vine growers.
Co-director Louise, Charles's wife, shares his passion for trees and fishing.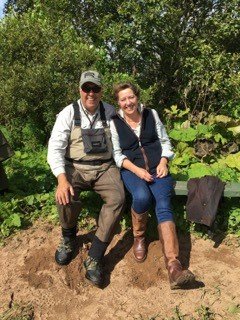 … and the & Co
Charles works with other experts throughout Britain and North America, he often calls upon others for specialist knowledge.
Dr Craig Shuttleworth
Dr Craig Shuttleworth is an international expert on red and grey squirrel ecology and has been involved in research in Italy, Canada and the UK. He is currently reintroducing red squirrels and pine martens to locations in north Wales. 
Read more about Dr Shuttleworth here
Amanita H Coosemans BSc (Hons), M.Ed, RPBio. 
Based in northern British Columbia, Amanita has led the planning, implementation and reporting  of a full spectrum of environmental projects since 1996. Amanita is an ecologist with a broad background in field biology, research and technical writing. Amanita founded Balanced Ecological Management Company ("Balanced Ecological") in 2009 as a sole proprietorship acting on an associate-based business model. Balanced Ecological provides professional ecological expertise to clients in natural resource and development sectors. In this way Balanced Ecological is able to participate in hand-picked teams that are driven by the needs of the client. Balanced Ecological is client- and project- focused, with the ultimate goal of guiding clients through technical and regulatory processes to find a practical balance grounded in the larger environmental, social and economic framework.
Frank and Amanita own and run Wildlife Dynamics Consulting in BC
Frank. I.  Doyle, MSc
Over the last 30 years my work has been balanced between ecological research on focal wildlife species, and working with forest industry and multi-disciplinary resource development projects to identify and mitigate impacts to sensitive species, species at risk and their habitats.  This work has primarily been within the framework of partnerships including First Nations, Provincial – Territorial and Federal Agencies, Universities, Resource Development Companies, Forest Harvesting Companies and other landscape management stakeholders.
My work includes a lead scientific role on several BC Government- and university- led Boreal Forest, Costal Rainforest and Arctic Tundra ecosystem projects, looking at species ecosystem linages at both the local and at the larger landscape scales, with a focus on the entire trophic ecosystem (including plants, insects, birds, mammals and people).  Primary drivers and interests to this research include focal species, cumulative impacts, climate change, and providing insights and information that will result in the long-term management of robust and resilient ecosystems.